The house is full of bustling conversations and the rich aroma of your favorite Thanksgiving entrees. The grandkids are scurrying from room to room, while the adults mingle and munch in the kitchen.
But even with all the joyous excitement of celebrating the holiday together, it's important to ensure older loved ones are not accidentally injured during the activity and extra people in the home.
The following safety tips will help families enjoy the festivities without someone getting hurt:
Heat and Cooking
Never leave the stove or fireplace unattended.
Do not use a deep fryer or grill inside the house or garage.
Make sure smoke detectors and carbon monoxide detectors are working.
Food Safety
Prevent food-related illness by frequently washing hands and kitchen surfaces.
Avoid cross-contamination by keeping raw foods and juices away from ready-to-eat foods.
Fully cook turkey and other meats to their proper, safe-to-eat temperature. (The Centers for Disease Control and Prevention offer guidelines on safely preparing a holiday meal.)
Kitchen Surroundings
Keep the floors clear of belongings, purses, toys, etc. (See the Fall Prevention Guide for more ways to safeguard your home.)
Clean up any kitchen spills from the floor immediately.
Avoid splashes or steam from hot foods or liquids.
Help elders retrieve items from higher shelves or lift heavy cookware.
Be sure electrical cords are not dangling from countertops or in pathways.
Help seniors, when needed, handle knives and sharp utensils.
Get the Fall Prevention Guide
As a loved one ages, their balance can be impacted for a variety of reasons. Reduced physical strength, medications and visual impairment are just a few reasons seniors are more prone to falls. To keep your loved one safe, Right at Home worked with fall prevention expert, Dr. Rein, to develop a guide to help you proactively assess and mitigate fall risks in your loved one's home.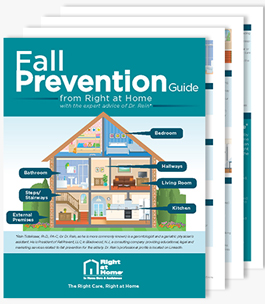 For more information about preventing falls, please visit Right at Home's
Fall Prevention Resource Center.
If Mom can't always remember her favorite holiday recipes or where she put her recipe cards, a number of apps are available for organizing recipes online. For tips with microwave or oven cooking, an online search dishes out a full menu of options. And of course, there's always the beloved Betty Crocker for special-themed food ideas to inspire any celebration. Bon appétit!
WHAT DO YOU THINK: What holiday safety issues have you encountered over the years?
An award-winning journalist who has documented stories in nearly 20 countries, Beth Lueders is an author, writer and speaker who frequently reports on diverse topics, including aging and health issues for both U.S. and international corporations.